For the past few years, non-surgical cosmetic procedures have been riding on a steady wave of popularity. What's more, the International Society of Aesthetic Plastic Surgery (ISAPS) reports that people prefer minimally-invasive treatments over surgical ones. As a result, the popularity of Botulinum toxin injections and dermal fillers has scored an annual increase by a combined average of 14.5%. We're here to help you answer one simple question: Botox vs fillers – Which one is better for you?
Although filler injections and Botox solutions both have fast effects, they are two different types of products. Therefore, they have different properties and longevity. So, to help you choose the right treatment for you, we'll need to explore their:
Main differences
Applications
Effects longevity
Cost
Safety
By the end of this article, you'll feel like an expert on non-invasive cosmetic procedures. Moreover, you'd be able to solve the Botox-or-fillers dilemma.
What Is the Difference Between Botox and Fillers?
While Botox and dermal fillers are applied through injection, they are don't have a lot of things in common. For starters, they don't have the same active ingredients. Also, the two products work in a completely different way. Let's look at the main differences between Botulinum toxin and soft-tissue fillers.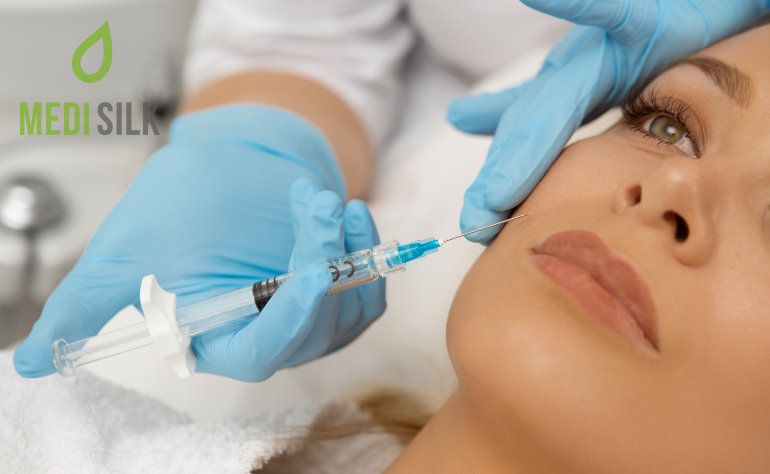 What Are Fillers?
The versatility of skin fillers available on the market is impressive to many people. Today, these injectables use trademark formulas. Furthermore, they can be subdivided based on the type of ingredients they contain:
Hyaluronic acid (HA): Juvéderm, Restylane, Belotero
Calcium hydroxylapatite (CaHA): Radiesse
Poly-L-lactic acid (PLLA): Sculptra
Polymethyl-methacrylate microspheres (PMMA): Bellafill
Polyalkylimide (Bio-alcamid): Aquamid
Some of the dermal filler injections above have temporary effects and others — semi-permanent and permanent. Although all types add volume under the skin, they often have unique properties of their own.
For instance, Hyaluronic Acid fillers deliver long-lasting skin hydration. In comparison, those that feature CaHA remove not only wrinkles but also stimulate collagen production in the skin.
If you want to undergo an all-around rejuvenation treatment, your doctor may need to use different filler types and brands. Since each product has a unique concentration and properties, most of them target several specific cosmetic problems. For example, filler injectables that work for deep nasolabial folds are not suitable for the correction of fine smile lines. For one thing, these products are injected into two different layers of the dermis.
Even though dermal fillers are not interchangeable, they do have plenty of things in common. For the most part, they provide patients with immediate effects. Also, they have a similar modus operandi — namely, filling lines and increasing the volume under the skin. Best of all, filler injection treatments require almost no downtime.
What Is Botox?
Contrary to what many people think, Botox is not a type of product. In reality, it is a brand of Botulinum toxin injection. Since Allergan's Botox was the first product of its kind, its brand name is now commonly used as a generic word.
As mentioned, Botox-like injectables contain Botulinum toxin — a neurotoxin that relaxes the muscles. Unlike dermal fillers, this cosmetic solution does not add volume under the skin. Instead, it prevents muscles from contracting. As a result, the appearance of expression wrinkles improves.
One downside that Botox has compared to filler injections is that it does not work instantly. Therefore, you'll need to wait a few days to see the anti-wrinkle effects of the treatment.
Although all Botulinum toxin products feature the same neurotoxin, they differ in many ways. For example, some brands like Ipsen's Dysport offer faster onset than Botox and Bocouture. Furthermore, products such as Merz's Xeomin have more limited spread. So, they are more suitable for cosmetic procedures as they offer more accuracy than those with a wider spread.
Another major difference between Botox-like products has to do with the way their units are measured. Manufacturers rely on unit measurement methods of their own. Consequently, their recommended dosage is not interchangeable.
Last but not least, almost all Botox injections come in the form of powder. As a result, plastic surgeons need to dilute them with sterile saline before injecting them. However, there are now liquid options such as Innotox. Since they come in a ready-to-use form, they are considered to deliver more consistent results.
Cosmetic Concerns They Correct
Because Botox-like solutions can only be injected in a few treatment areas (e.g. the outside edge of the eye) , their use is more limited. Also, they are not suitable for the correction of superficial lines and wrinkles.
Dermal fillers are much more versatile. Still, this doesn't mean that you can rely on the same filler product to remove both fine and severe wrinkles. Usually, each injection targets a particular cosmetic problem.
Fillers
Lines, wrinkles, and folds: Filler injections fill superficial-to-severe wrinkles on the face, neck, and décolleté. Some of the lines they remove include, folds around the mouth and wrinkles around the eyes.
Dehydrated and tired skin: Hyaluronic Acid fillers are particularly suitable for dehydrated and tired skin because they have moisturizing properties.
Volume loss or lack of volume: The volumizing powers of dermal fillers make them ideal for non-surgical augmentation. They target specific zones of the face and the body. Some of the most popular procedures of this type include enhancement of chin and cheeks.
Thin lips: Another facial area that can be rejuvenated and volumized with filler treatments are the lips. Patients have the freedom to choose anything from subtle lip plumping to more noticeable lip augmentation.
Facial asymmetry: Cosmetic surgeons also rely on these injectables to facial recontouring. In this case, their application is more commonly focused on the midface.
Rejuvenation of face, neck, and hands: Some skin fillers have anti-aging properties. They often work equally well not only on the face but also on the neck and the back of the hands.
Botox
Crow's feet: These are tiny wrinkles in the corner of the eye. They appear whenever we squint and smile. Sooner or later, they become a permanent fixture on our faces. Target zone: orbucularis occuli muscles.
Glabellar lines: Also known as 11s and frown lines, these wrinkles are formed between the eyebrows. Target zones: procerus, corrugator supercilii, and depressor supercilii muscles
Forehead wrinkles: They appear in the form of horizontal lines on the forehead. Target zone: frontalis muscles.
How Long Do Botox and Fillers Last?
Typically, Botox injections remove dynamic wrinkles for 3-4 months, while temporary and semi-permanent fillers last 3-24 months. Luckily, the effects of these treatments can be easily prolonged through maintenance sessions. Keep in mind, however, that the products' efficacy depends on additional factors such as genetics and lifestyle. As a result, the durations listed above can vary from patient to patient.
Do Fillers Last Longer Than Botox?
Even though some dermal fillers can keep wrinkles at bay for up to two years, the time it takes for most of them to biodegrade is 4-9 months. Nevertheless, many soft-gel filler injections dissolve within three months after the procedure. Yet, it can be said that, aside from a few exceptions, they are usually longer-lasting than Botox-like solutions.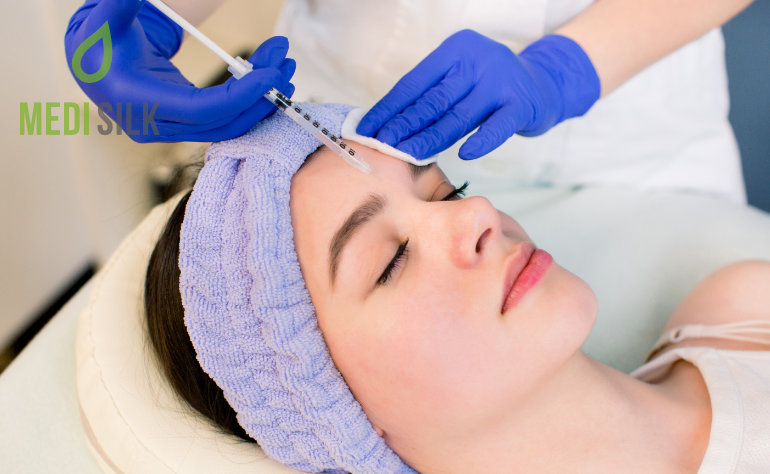 Which Is More Expensive Botox or Fillers?
Botulinum toxin injections the more affordable option since US patients pay $385 per Botox session on average. In comparison, one dermal filler procedure can be twice as expensive.
However, these are just average estimates. The end price of your treatment may be considerably higher or lower, depending on:
The effects you want
Your provider
The amount of product that needs to be used
Target zone
The severity of your cosmetic problem
Botox vs Fillers — Which One Is Safer to Use?
Even though there are many myths about the safety of these two anti-wrinkle products, they are generally hide no serious risks . Moreover, the US Food and Drugs Administration has approved the cosmetic use of several filler and Botox-like injections. Some of these FDA-approved products include dermal fillers like Restylane and Juvéderm and Botox solutions such as Botox and Dysport.
Still, both categories of injectables come with their own set of side effects. Fortunately, most of the unwanted effects they cause are harmless and mild. In most people, they disappear within hours or a couple of days after the procedure.
Which Is Better Botox or Juvéderm?
Botox is the most famous Botulinum toxin injection, while Juvéderm is the most popular Hyaluronic Acid filler. Probably, that's the reason some people ask, 'Which one is better Botox or Juvéderm?'
Hopefully, this article has shown you that these are two completely different products. The only thing Botox and fillers like Juvéderm have in common is that there are both top-quality rejuvenating injectables. Indeed, it's not a question of which of these two brands is better for you, but which treatment will work best for you.
Final Words
In conclusion, to choose the right minimally-invasive treatment for you, focus on what you want to treat. Botox-like products and fillers may differ in price, formula, and durability. Nevertheless, these differences would not matter because the two treatments are not interchangeable. Botulinum toxin injections work best on moderate-to-severe wrinkles around the eyes, while dermal fillers have multiple anti-aging uses.
The winner in the Botox vs Fillers battle depends entirely on your cosmetic correction needs. However, don't try googling fillers or Botox near me if you still struggle to make a pick, contact a board-certified plastic surgeon. Such a professional will choose the best treatment option for you.