Figuring out which dermal filler is right for you is not an easy job. That is especially true if you must choose between Radiesse and Juvederm. Both brands are notorious for their excellent quality and for the long-lasting skin rejuvenating results they deliver. The dilemma gets even harder because they have similar anti-aging and anti-wrinkle effects. What makes one different from the other is that they achieve these effects in their own way.
What is the difference between Juvederm and Radiesse?
Juvederm and Radiesse are FDA-approved skin fillers. They each have a great filling effect and that is why they can be used for the correction of wrinkles and skin depressions such as marionette lines and nasolabial folds. In addition to that, these top-performing filler injections have volumizing properties. That allows them to treat volume loss under the skin and to deliver patients with simple and minimally-invasive augmentation of chin and cheeks.
Temporary removal of fine to severe lines, wrinkles, and folds
Non-surgical augmentation of chin
Adding volume to the cheek area
Skin rejuvenation
But it may come as a surprise to you that they are two different types of injectable fillers. Juvederm is based on non-animal Hyaluronic Acid or HA, while Radiesse has Calcium Hydroxylapatite (CaHA) as a main active ingredient. HA is found naturally in the human body and it is 100% biocompatible even when it is synthetically made through a biofermantation process as it is the case with the HA in Juvederm. This substance also has fantastic moisturizing properties. CaHA, on the other hand, is made by natural components that are present in our organism. This means that it too is highly tolerated by humans. However, its key active ingredient is viewed by the human organism as a foreign body which triggers a reaction in the skin, making it produce extra collagen. In that way this structural protein can gradually rejuvenate and improve the appearance of dull, tired and/or aging skin.
Video: How does the Radiesse wrinkle filler work?
Treatment
Despite the different composition of the two dermal filler brands, a treatment involving their use is almost the same. Both Juvederm and Radiesse are applied via a series of injections in the target area. The procedure is swift and a board-certified plastic surgeon can complete it in less than an hour. It does not involve pain and patients can quickly get back to their daily tasks. Typically, the desired results are achieved with one session.
When it comes to side effects, swelling, redness and bruising around the injection points are the most commonly observed ones. They subside not long after the procedure. Allergies and other unwanted reactions are also possible but are rare. Nevertheless, Hyaluronic Acid fillers like Juvederm are generally better tolerated compared to CaHA ones such as Radiesse.
Results and duration
The anti-wrinkle and volumizing effects of these products are instant. Wrinkles are immediately filled and the lost volume is instantly restored. The collagen-boosting properties of Radiesse, however, take time to work. For that reason, patients will enjoy the full results of the filler treatment in a week.
When it comes to the longevity of the effects of these dermal fillers, Radiesse is the longer-lasting of the two. It can take the body up to two years to completely dissolve Calcium Hydroxylapatite. With Juvederm, the duration of the achieved results varies from product to product because the brand's range consists of filler injections of different concentration and particle size. Juvederm Vollure XC (formerly Volift) has one of the highest cross-linking rates and HA concentrations in the line. Thanks to that, it can reshape the nose and correct medium to severe wrinkles and folds for a maximum of 18 months. In contrast, Juvederm Ultra 3 and Ultra 4 normally wear off in 6-12 months.
Cost
Juvederm's average cost per syringe ranges from $450 to $600. That makes it more budget-friendly compared to Radiesse which is priced at $650-$800 per syringe. But there is one very important detail here – the long-term costs with the second option will be slightly lower because the interval between maintenance sessions is greater. However, some patients may need more regular touch-up appointments even if they are using Radiesse because of their age, greater severity of their cosmetic problem or faster metabolism.
What is Radiesse best used for?
Although both fillers have similar effects, Radiesse is best used for midface contouring and augmentation. Its CaHA-based gel is very stable and dense and it can volumize the cheeks like few other injectable products can. It also does an excellent job of rejuvenating the hands because of its collagen-stimulating action.
| | | |
| --- | --- | --- |
| Treatment & Treatment Area | Juvederm | Radiesse |
| Chin | Yes | Yes |
| Lip lines | Yes | No |
| Lips | Yes | No |
| Cheeks | Yes | Yes |
| Nasolabial folds | Yes | Yes |
| Pre jowl Sulcus/Jowls | Yes | Yes |
| Temples | Yes | No |
| Marionette lines | Yes | Yes |
| Tear troughs/undereye area | Yes | Yes |
What is Juvederm best used for?
Out of the two, Juvederm is the more versatile skin filler brand. It can smooth wrinkles even in the most mobile and delicate areas of the face. Unlike Radiesse, it is suitable for lip line correction and lip augmentation because it has higher viscoelasticity that allows it to easily adapt to the target injection zone. In fact, this Allergan brand has several outstanding products that can be used as filler injections:
Juvederm Volbella (now Volbella XC)
Juvederm Ultra 2 (Ultra XC)
Juvederm Ultra 3 (now Ultra Plus XC)
Juvederm Ultra Smile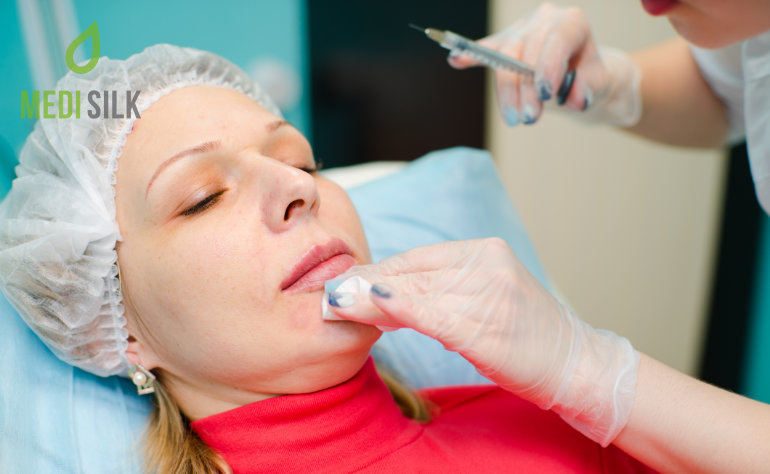 Which filler is right for you?
The answer to that question depends on what you are looking to achieve with your treatment. If you want to rejuvenate the area around the mouth and add volume to your lips, Juvederm is the only one of the two soft-tissue fillers that can make that possible for you. This is also the cheaper option. On the other hand, Radiesse is slightly more durable and it will rejuvenate the skin on a deeper level by encouraging the production of collagen. That makes it ideal for patients with aging skin who wish to enjoy more durable anti-aging effects.