Juvederm is a famous brand of Hyaluronic Acid fillers by Allergan each of which has its unique HA concentration and particle size and it has been carefully customized to address a specific cosmetic problem. For example, Juvederm Vollure XC restores lost volume in the cheek area and removes nasolabial folds, while Juvederm Ultra 3 (Ultra Plus XC) is designed for risk-free lip augmentation. This brand of dermal fillers is so good at plumping the lips that it is now a leader in the field. Certified plastic surgeons can always count on it to provide their patients with minimally-invasive:
Reduction of lip lines and wrinkles
Correction of asymmetrical or deformed lips
Lip contouring
Lip enhancement
Subtle lip plumping
These injectables have one big advantage over their rivals – their hard-to-match durability.
How long do fillers last in lips?
Since the lip area is quite mobile and delicate, all types of fillers used for its treatment wear off faster than those administered elsewhere on the face. Most of them last for 6 months at the most but that period may vary from patient to patient because of additional factors such as metabolism, injection technique, lifestyle habits, etc. The top brands of lip fillers, however, use higher-quality Hyaluronic Acid that has been optimized through proprietary manufacturing technologies to ensure longer-lasting volumizing effects. Restylane, one of Juvederm's main competitors, will keep lips smooth and plump for a maximum of 10 months, while Belotero can last for 6-12 months after just one injection session. But where does Juvederm stand in this ranking?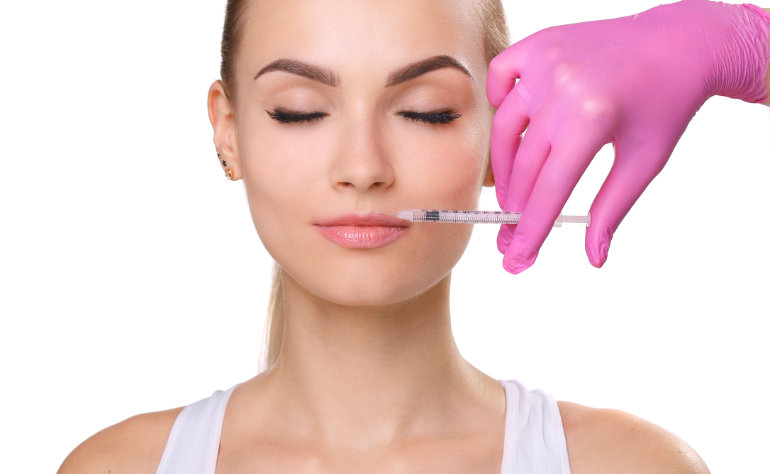 How long does lip filler Juvederm last?
Various things determine how long Juvederm will last when it is injected in the lips. For the most part, however, the longevity of its effects, when it is used for the treatment of lips, is up to 18 months. The brand's Ultra XC lip filler has the lowest concentration of Hyaluronic Acid and the smallest gel particles which is why it only lasts for the standard 6 months.
Because of its incredible durability, Juvederm lip injections are a top choice for patients who wish to extend the time window between their maintenance procedures. While most other HA-based skin fillers that target this zone of the face require follow-up injections every 3-4 months, with this product line, this period can be easily doubled. Less regular maintenance sessions also mean cheaper lip augmentation treatments in the long term.
Table: Duration of different HA fillers for lips
| | |
| --- | --- |
| Lip filler | Duration |
| Juvederm Ultra XC | 6-12 months |
| Juvederm Ultra 2 (Ultra XC), Juvederm Ultra 3 (Ultra Plus XC), Volbella XC, etc. | 12-18 months |
| Restylane | 6-10 months |
| Belotero | 6-12 months |
How to prolong lip fillers' effects?
The durability of Juvederm filler injections such as Juvederm cannot be prolonged beyond the given 18 months (and 6 months in the case of Ultra XC). But there are a few key steps that patients can take if they want to ensure that the results from their treatment will not wear off prematurely. As a start, you must avoid alcohol, blood-thinning medications and exercise shortly before and after the procedure. It is also recommended to steer clear from direct sunlight during the first days after the injection because UV light is known to increase the speed with which the HA gel biodegrades in the soft tissues. Eating healthy and avoiding stressful situations will also help to keep your lips smooth and full for longer. Last, but not least, hydrate your lips. That will let the FDA-approved filler do its job better.
Is one syringe of Juvederm enough for lips?
Most Hyaluronic Acid lip injections come in 1ml prefilled syringes and there is a good reason for that. Usually, one treatment requires the application of 1ml to make lips appear fuller. But, as a rule, the dosage is different for every patient because of factors such as:
Age of the patient
Target results
The natural size of the lips
Filler concentration
So, one syringe of Juvederm will be enough for non-surgical lip enhancement for some patients and for others – it will not. That is why you need to consult with a board-certified plastic surgeon in advance to learn what amount of filler injections you will need. Knowing that will help you be better prepared to meet the cost of the treatment.
Cost of Juvederm lip fillers per syringe
Juvederm is not among the cheapest dermal filler brands one can find. There are many Korean-made alternatives available on the market that are two times more budget-friendly that the products offered by Allergan's brand. However, the lip area typically does not require the application of a large volume of injectable gel compared to other areas of the face such as the cheeks or the chin. Therefore, even though most practitioners charge about $450-$600 per syringe, the longer-lasting filling and volumizing powers of Juvederm are worth the money.
If we must compare the cost of these soft-tissue fillers with the cost of other lip enhancement procedures, Juvederm stands out as a truly cost-efficient solution. Even if you spend $600 per syringe on it, that will still be much more affordable compared to lip implants which will set you back with $2,000 or even $3,000. Lip surgery and fat grafting, on the other hand, come at a price of about 5,000 per session.
What happens when lip fillers wear off?
Juvederm Hyaluronic Acid HA fillers improve the appearance of the lips immediately. This gel implant needs 18 months at the most before it completely dissolves. But the biodegradation of the product is not an overnight process. Instead, it is rather gradual and slow. This means that there is no risk of a "Cinderella" effect in which you look like a princess one day and on the next, you are back to your natural look. Experienced clinicians schedule their patients' maintenance sessions before the filler has fully degraded. In that way, they will not need to regain their natural appearance and will not need to spend too much money on their follow-up appointments.