Nowadays, patients who wish to improve the appearance of their lips by giving them a plumper look, redefining their contour and smoothing vertical lip lines can choose from several cosmetic procedures. The American Board of Cosmetic Surgery lists dermal filler injections, lip implants, and fat injections as the three safest, fastest and most effective lip augmentation treatments available at the moment. Most patients opt for HA-based lip filler injections since they involve a quick non-surgical procedure and the results can be easily maintained, as well as painlessly reversed. Since Restylane and Juvederm are the two giants of HA filler injections, being the most popular and top-selling solutions in their class, it is worth comparing their abilities as lip fillers. In that way, people who are considering undergoing such a minimally-invasive treatment will be able to make a better and more informed choice.
Are Restylane and Juvederm good for lips?
Juvederm by Allergan and Restylane by Galderma both offer an impressive range of advanced skin fillers that address different aesthetic problems – from correcting fine lines and wrinkles and hydrating the skin to the augmentation of chin, cheeks, and nose or reducing the appearance of severe nasolabial folds. But are any of these solutions suitable for the treatment and enhancement of lips? Yes, indeed these two lines do feature a few excellent lip injections. Some target specifically the lip area, while others have a wider scope of action. The common trait between them is that they can be safely injected into the upper and lower lips because their main active ingredient is Hyaluronic Acid. They deliver speedy results and once the HA in them dissolves in the soft tissues several months after the treatment, patients regain their original look.
How much do these fillers cost for lips?
The first thing that patients want to know about any type of cosmetic procedure is its cost. On average, a filler injection treatment will cost you a little over $670. But the end price varies on multiple factors such as:
The price of filler per syringe
Experience of the chosen practitioner
Location
Type of lip procedure (contouring, augmentation, line filling, etc.)
Out of those, the one that is easiest to determine and predict is the cost of the dermal filler itself. In general, Juvederm's products are in the price range $60 to $275, while Restylane typically starts at under $80 and can go up to $200 per 1ml syringe. When it comes to the lip injections by these brands, things look in the following way:
Juvederm for lips: $135-$270
Restylane for lips: $77-$100
With lower starting and top prices, it is clear that Juvederm is the more budget-friendly option. But it is too early to crown this brand as the winner of the battle because the efficacy of these products must also be reviewed.
What are the effects of these lip injections?
At first glance, Restylane and Juvederm may seem like they offer the same set of advantages. For instance, they have both been approved by the Food and Drug Administration for the treatment of lips and they both contain non-animal Hyaluronic Acid. The procedure through which they are administered is also identical – it takes only a few minutes and it does not require downtime. They also target similar cosmetic concerns and can be used for:
Mild lip plumping
Lip augmentation
Temporary removal of vertical lip lines
Lip smoothing
Lip contouring
Mouth corner lifting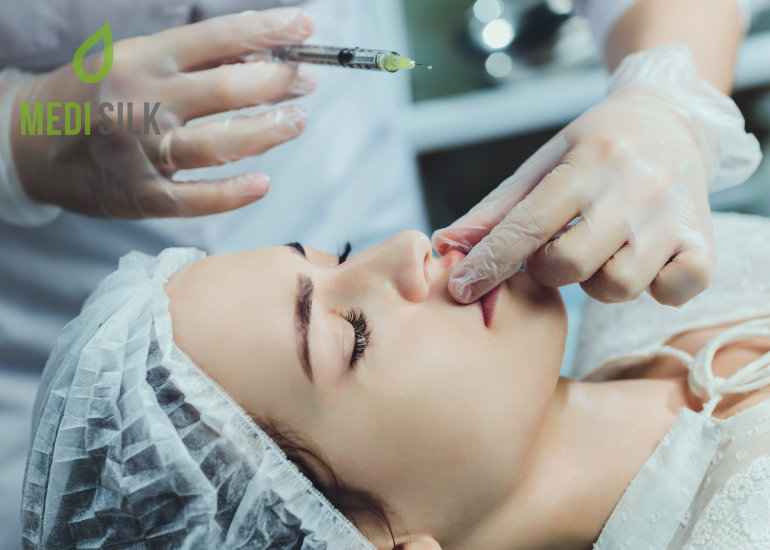 However, they are more different than one might assume. For starters, Juvederm delivers instant results, while Restylane's effects will appear several days after the treatment. Yet, the latter has a duration of up to 1 year, as opposed to the 10 months tops which Juvederm promises.
Similarities
Differences
Restylane
Juvederm
Mild side effects (e.g. swelling, bruising, redness, tenderness at the injection site)
Takes a few days to work
Immediate results
A fast, minimally-invasive procedure
Affordable
More expensive
No downtime is required
Less lasting
More durable
Treatment effects last for months
Natural-looking appearance
Softer look
FDA-approved
Better at lifting corners of the mouth
Better at correcting asymmetrical lips
Optimized to deliver painless treatment experience to patients
Contains more flexible implant gel
Stimulates the production of collagen
Require maintenance injections for results to be preserved
Greater risk of post-treatment swelling
Formation of post-treatment nodules is more likely
How long does Restylane last in lips?
The approximate effects' longevity of Restylane fillers is up to 10 months. But since the lips is a very delicate area that is also highly mobile, the duration of lip injections can be slightly shorter than that.
Which Restylane is best for lips?
The Restylane line features several high-quality dermal fillers that can be used on the lips. The flagship lip injection by this brand is Restylane Silk (aka Restylane Lip Volume) which is famous for being the first FDA-approved lip filler. Although it can be applied during lip augmentation procedures, its hard gel makes it more suitable for the correction of fine lip lines. The NASHA Technology through which it is manufactured has made the HA particles smoother, giving a stable yet soft look.
Patients who are more prone to post-treatment swelling, often respond better to the effects of Restylane and Restylane-L. Although they can make lips appear fuller, they are particularly effective at improving the contour of lip borders and lifting the corners of the mouth.
Last, but not least, we have Restylane Refyne which may be the brand's masterpiece since it offers very natural-looking results. It has been produced through a special XpresHAn Technology but dissolves rather quickly – about 6 months.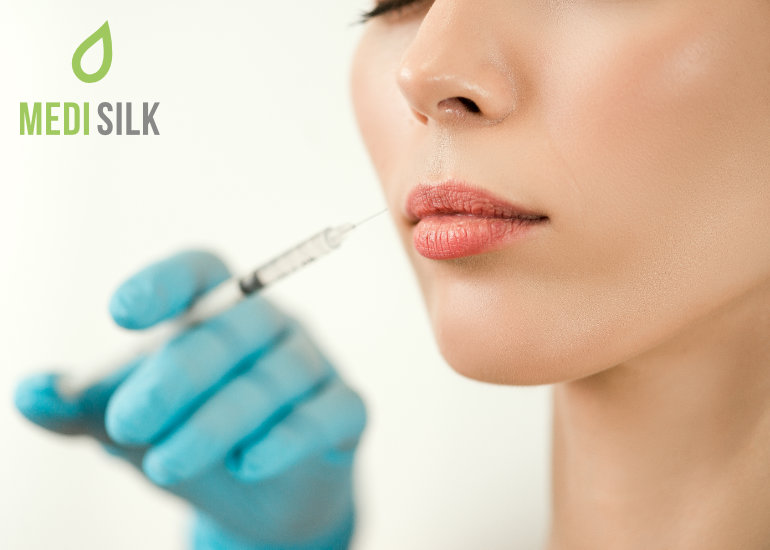 How long does Juvederm last in lips?
Juvederm tends to be longer-lasting than Restylane. One injection can offer visible results for up to one full year. Once again, when injected into the lips, the implant gel may dissolve quickly than usual but even then, the treatment will be more durable.
Which Juvederm is best for lips?
Juvederm Ultra 2 and Ultra 3, also known as Ultra XC and Ultra Plus XC, have been used in lip enhancement procedures for many years now. Out of the two, Ultra 3 has greater volumizing abilities which means that it is suitable for patients who are looking for a more pronounced appearance. Those who prefer more subtle plumping should go for a Juvederm Volbella lip injection. Being the newest and most innovative dermal filler from the range, it wins many points in this race. This product can easily fill lip lines and treat asymmetry in lips and with its Vycross cross-linking technology, it effectively reduces the risk of side effects.
Which filler is best for lips?
Picking a winner would be unfair in this case. Both Restylane and Juvederm offer good results when they are used for the treatment of lips. When choosing which product to use, one needs to consider the end goal that they have in mind. Each of these products has its own area of expertise – Restylane Silk removes vertical lip lines, Juvederm Volbella XC adds a very subtle volume, while Juvederm Ultra XC and Juvederm Ultra Plus XC are the go-to options for more pronounced lip enhancement results. Therefore, the choice of the best product here depends not so much on the brand but more on each individual patient's end goal and that means that there are no losers and winners in this game.